Leading Effectively Through Change
Change. How do you feel when someone mentions the word "change?"
While some people welcome change, in the healthcare industry any level of change within the walls of our organization can oftentimes be very intimidating and unsettling for the majority of our staff, and sometimes even the leaders who manage and execute change.
At MHEI, we've dedicated a great deal of time and resources to this very important topic in healthcare. All so we can help you, Maryland's healthcare leaders, adapt and thrive as change agents in your organization.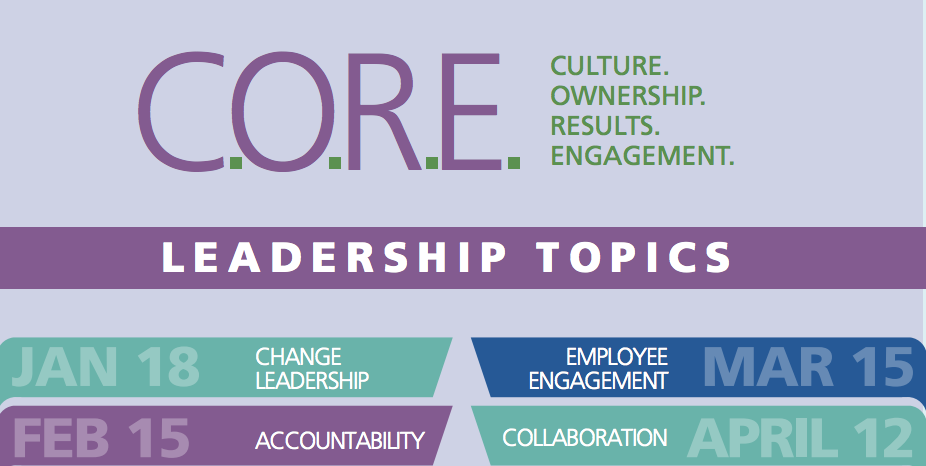 We're not just talking about maintaining the status quo in managing change, but rather focusing on the skills we need to leverage change, handle staff resistance to change, all while continuing to plan for change as the new normal.
MHEI's four-part CORE Leadership Program has become a popular way for healthcare leaders in Maryland and beyond to refresh their leadership skills and take time to focus achieving organizational results, while also creating a culture that works.
In the first of our four in-seat 2018 CORE Leadership sessions, we'll spend a full day working with nurse managers and other healthcare leaders on all aspects of change we as leaders in our organizations need to acquire and maintain regularly.
Our CORE Leadership sessions require a high degree of engagement and interaction from participants, so we welcome you to take a break from your daily work routine and join us for a strategic thinking session that is sure to enhance your leadership skills and leave with an optimistic heart to take on whatever level of change is next in line in your organization.
For more details and to register for our first 2018 CORE Leadership Session on January 18, please click here or contact Kelly Yost at 410-796-6239 or kyost@mhei.org.
Leadership Conference Only Weeks Away
If you're interested in other ways to fine tune your leadership skills, or are simply seeking inspiration on ways to enhance your core responsibilities, we welcome you to join us for our 2017 Maryland Healthcare Leadership Conference October 15 – 16, 2017 at The Hyatt Regency Chesapeake Bay Resort in Cambridge, MD.
Hear from our keynote speaker U.S. Army, Retired Former Commander of U.S. and NATO Forces in Afghanistan, General Stan McChrystal about his "Lessons in Leadership," along with several leading healthcare experts on the hottest topics in healthcare today.
The deadline to register online for the conference is Thursday, October 5. To register, please click here.