Healthcare Education… Made Easy
Just as the field of healthcare changes rapidly, so do the intricate needs of the very important people we serve… our patients.
Our time is precious, and so too, are our patients and all healthcare providers.
At the Maryland Healthcare Education Institute (MHEI), we're continuing to develop innovative ways to support your educational needs.
That's why, we are offering a brand new 2018 MHEI Spring Healthcare Summit — a first-of-its-kind event strategically developed for healthcare leaders to learn from some of the brightest minds in the industry on how to blaze a path of empathy, patient engagement, and mindfulness within your organization.
Speakers Your Patients Want You to Hear
In just one day's time, you'll hear from a mix of keynote speakers and join breakout sessions that will provide you with clear-cut instructions on ways to implement new and forward-thinking ideas the moment you walk out the door and return to your organization.
Our goal is for you to walk away with a clear vision for the future of your organization — and a roadmap to help you get there… in just one day.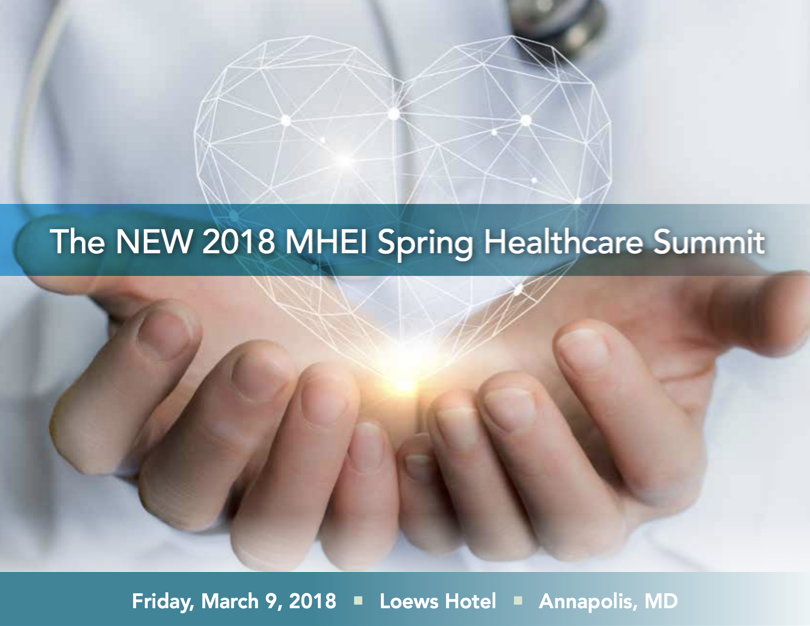 You're Invited: Everyone is a Leader
Our announcement of this NEW Spring Healthcare Summit comes on the heels of our Annual Healthcare Leadership Conference in October. With so much going on in the healthcare industry, at MHEI we want to be sure we are providing meaningful and timely education to all healthcare leaders throughout the mid-Atlantic region on a more frequent basis.
So, we invite all healthcare leaders — and your teams — to join us for this one-day only Healthcare Summit.
To learn more about the keynote speakers and the agenda for the day, click here. Registration is open now, with discounted rates available for groups of three or more. Click here to register.
See you at The Summit!