The Prerequisite for Success in this New Age of Healthcare
As a leader within your healthcare organization, you're looked upon to set the pace and guide the culture. But, when so many changes are occurring at such a rapid pace, leading effectively can become quite a challenge.
But don't lose hope just yet. There is a solution taking shape throughout hospital and health systems across the U.S. that may have found the key to success in this ever-changing world of healthcare.
At the helm of this solution is a collaborative leadership model developed by the Center for Creative Leadership (CCL) that hospitals and health systems are using to adapt and thrive in these uncertain times through creative direction, alignment and commitment. It's a powerful lever for change, transformation and sustainability. And it can be incorporated directly into your leadership strategies.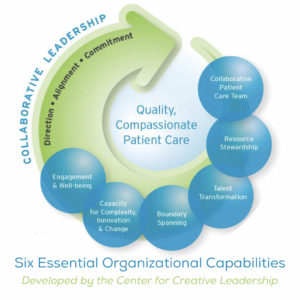 It's called a "Culture of Collaboration." And it's working.
This new combined leadership approach has successfully led many hospital and health systems straight through the healthcare fog, transforming their culture and leveraging their success in providing efficient, quality care with superior patient outcomes.
At MHEI, we feel so strongly about this new leadership model that we have dedicated a full day to introduce you and your team to CCL's six-point model on collaborative leadership during our onsite program this fall entitled, Collaborative Health Care Leadership.
Working together across disciplines in the healthcare industry most likely would have presented challenges within your organization in the past, but in this new age of healthcare a more collaborative work environment is becoming the prerequisite to long-term healthcare success within the foreseeable future.
We encourage you to join us and bring a few of your colleagues from other departments or units, to collectively learn how to adapt and thrive in these uncertain times by creating direction, alignment and commitment.
We promise it will be a day full of invigorating discussion that will be sure to jumpstart your internal leadership strategies.
For more information and to register, click here.
We can't wait to see you (and some of your colleagues) there!