Coaching for Work and for Life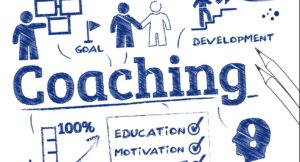 "Each person holds so much power within themselves that needs to be let out. Sometimes they just need a little nudge, a little direction, a little support, a little coaching, and the greatest things can happen."
– Pete Carroll, Seattle Seahawks Head Coach
Coaching, so often associated with sports, can play a highly impactful role in improving performance in any setting. This is because, at its heart, coaching is about finding a way to help people maximize their own abilities to realize the utmost fulfillment of their talents and potential.
Renowned psychologist Abraham Maslow brought this term to prominence, writing that "self-actualization" is the highest level of development that people can achieve where full personal potential is realized.
Of course, there are some exceptional people who are able to achieve this on their own, but most of us need a little help. That's where coaching comes in.
Effective coaches employ a multitude of strategies to enhance performance, but the one that's captured my interest of late is on how coaches can help people become more self-aware, to better understand how their habits might get in the way of improvement, to help them develop new strategies to grow and advance.
This form of coaching emphasizes self-discovery, so that those working to improve "own" the solutions they find for themselves rather than those solutions being forced upon them.
Evidence for the value of coaching when it comes to workplace performance abounds. In a recent survey, 40 percent of workers said that the top factor influencing their work experience is "a lack of help and support from my boss." Displeasure like this can affect a variety of important metrics like retention, employee satisfaction, and employee disengagement.
It doesn't have to be this way. Research suggests that the return on investment for executive coaching can be as high as 700 percent and improve:
Customer service
Talent development
Workplace performance
Revenue
Workplace satisfaction
It's fair to say that these benefits would carry over to all associates, not just executives, as anyone, at every level of an organization, has the opportunity to be a leader by assuming responsibility and taking action when needed. Coaching can bring positive change to everyone.
The bottom line is this. While many leaders focus on fixing the day-to-day problems within an organization, investing in coaching for others means their enhanced potential will do two things: help avoid some of those problems in the first place and create a stronger, more empowered team to deal with issues when they do pop up.